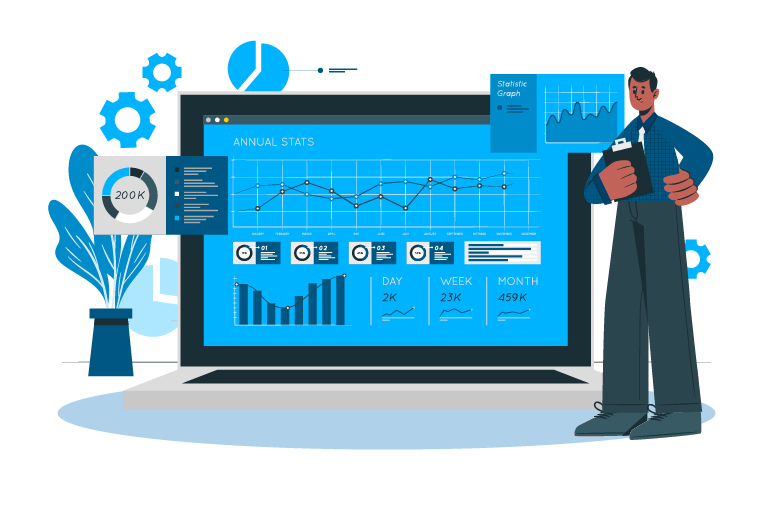 Easy Steps to Become a Google Analytics Specialist
Google Analytics can take a lot of work to get a handle on and figure out. Gold mining is a lot like mining via Analytics' complex measures. The only difference is that information is being mined here instead of gold.
In today's digital age, data-driven insights are crucial in shaping business strategies and decisions. Google Analytics, a powerful web analytics tool, empowers businesses to gather valuable data about their online presence, user behavior, and overall website performance.
Becoming a Google Analytics specialist can open doors to exciting career opportunities in digital marketing, web analytics, and business intelligence. This guide will outline easy steps to help you become a Google Analytics specialist and master the art of deriving actionable insights from data.
Read: "The Rise Of Shared Office Spaces In Islamabad"
Simple Steps to Become a Google Analytics Specialist
Here is a step-by-step guide to becoming a Google Analytics expert:
Step 1: Understand the Basics of Web Analytics
Before diving into Google Analytics, it's essential to understand the basics of web analytics. Learn about key concepts like sessions, page-views, bounce rate, and conversion rate. Familiarize yourself with how websites generate data and the importance of analyzing user behavior.
Step 2: Set Up Your Google Analytics Account
If you don't have a Google Analytics account, create one by signing up at analytics.google.com. Follow the instructions to set up your account, property, and tracking code. Install the tracking code on your website to start collecting data.
Step 3: Explore the Google Analytics
Interface Log into your Google Analytics account and explore the interface. Get comfortable with the various sections, reports, and menus. Understand the main components like Audience, Acquisition, Behavior, and Conversions.
Create a Google Account: If you don't have one already, create a Google account. This account will be used to access Google Analytics.
Setting Up Google Analytics: Go to the Google Analytics website and sign in with your Google account. Follow the prompts to create a new Google Analytics account. You'll need to provide information about your website, such as its name, URL, and industry.
Generating Tracking Code: Once your account is set up, Google Analytics will provide you with a unique tracking code. This code must be added to your website's HTML to track user data.
Step 4: Complete Google Analytics Academy Courses
Google offers free online courses through Google Analytics Academy. Start with the "Google Analytics for Beginners" course and the "Advanced Google Analytics" course. These courses provide in-depth knowledge about using the platform effectively.
But if you want an in-house Google Analytics course, Enrollers is here to help you. They have experts to give you answers to your entire query related to Google Analytics.
Step 5: Learn about Goals and Conversions
Goals and conversions are at the heart of tracking website success. Understand how to set goals to track specific user actions, such as form submissions or product purchases. Learn to create conversion funnels to analyze user paths leading to conversions.
Step 6: Dive into Custom Reports and Dashboards
Google Analytics allows you to create custom reports and dashboards tailored to your needs. Explore how to create custom visualizations, segment data, and extract insights that matter most to your business or clients.
Step 7: Understand E-commerce Tracking
For those working with e-commerce websites, mastering e-commerce tracking is crucial. Learn how to use enhanced e-commerce tracking to analyze product performance, shopping behavior, and revenue.
Step 8: Explore User Behavior with Behavior Flow
Behavior Flow visualizes the path users take through your site. Understand how users move from page to page, where they drop off, and where they convert. This insight helps optimize user journeys.
Step 9: Utilize UTM Parameters
Learn about UTM parameters and how to use them to track the effectiveness of your marketing campaigns. UTM parameters help you identify incoming traffic source, medium, and campaign.
Step 10: Stay Updated and Practice Regularly
The digital landscape evolves rapidly. Stay updated with the latest Google Analytics features and changes. Regularly practice analyzing data, interpreting reports, and extracting insights to reinforce your skills.
Apply your knowledge to real-world scenarios. Set up experiments, analyze data, and derive insights to improve website performance continually. Expand your knowledge by exploring other Google tools like Google Tag Manager, Data Studio, and Google Optimize.
Conclusion
Becoming a Google Analytics specialist takes time, practice, and dedication. By following these easy steps, you'll be well on your way to mastering the platform and unlocking its potential to drive informed decisions and enhance website performance. Whether you're a marketing professional, business owner, or simply passionate about data, Google Analytics expertise is a valuable asset in today's digital world.
Become a Google Analytics Specialist today by choosing our exclusive Google Analytics Course.
FAQs
Q1: Why become a Google Analytics Specialist?
Becoming a Google Analytics Specialist opens opportunities to work with businesses to enhance their digital strategies, track key metrics, and optimize website performance for better results.
Q2: What skills are needed to become a specialist?
Essential skills include data analysis, understanding web metrics, proficiency in Google Analytics tools, and translating data insights into actionable recommendations.
Q3: How can I start learning Google Analytics?
Begin by exploring Google's official Analytics Academy, which offers free courses and certifications to help you learn the basics and advanced features of the platform.
Q4: Do I need a formal education to become a specialist?
While formal education can be beneficial, it's not mandatory. Practical experience, self-study, and certifications hold significant value in this field.
Q5: What are some advanced topics to focus on?
Advanced topics include:
Setting up advanced tracking (e.g., e-commerce, event tracking).
Customizing reports.
Using Google Tag Manager.
Integrating Google Analytics with other tools.
Q6: How can I showcase my expertise as a specialist?
Build a portfolio of case studies demonstrating successful analytics implementations, earn Google Analytics certifications, and engage in online communities or forums to share insights and learn from others.
Q7: Is certification essential to become a Google Analytics Specialist?
While not mandatory, Google Analytics certification showcases your expertise and can improve your credibility as a Specialist.
Q8: What job opportunities are available for Analytics specialists?
You can work as an Analytics Specialist, Digital Marketing Analyst, SEO Specialist, or even a freelancer offering analytics services.