Popular Courses
Enroll in a course today!
Learn with the best Mentors
Mr. Adeel started his freelancing journey during college and was among the few who earned a handsome income. He founded his software house very early and has trained thousands of students since then. He has been through the ups and downs in business ventures, which makes him an excellent mentor due to vast experience and exposure in freelancing, teaching and entrepreneurship. 
Webicosoft is an internationally acclaimed leading agency offering high quality services and solutions including digital marketing, mobile app development, web design and development, professional trainings, consultancy and more. Webicosoft and Enrollers will be working together for the betterment and success of Pakistani youth.
Adeel Malik is one of the top rated freelancer with excellent Job Success Score (JSS) on Upwork, Freelancer, Guru, etc., and has worked 10,000+ hours on these freelancing platforms. Adeel aims to share his knowledge with the youth of Pakistan and assist them in succeeding by providing the proper knowledge and skills.
At Enrollers, we arrange meetings between students and mentors so that students can engage in live discussions and get solutions to problems they might be facing. We also offer Workshops in which students are focused on hands-on practical training. 
Enrollers offer crash courses during weekends for busy candidates. In our crash courses you gain more knowledge in a short time and at affordable prices.
Our Lessons are Practical and in-house based. They get a chance to practice on live projects, and our experienced mentor guides them through every process. Students also get to learn and practice premium tools.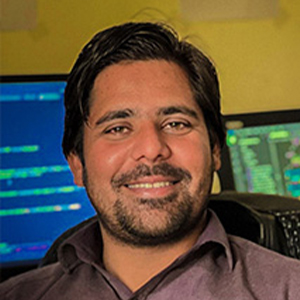 Muhammad Rizwan
Laravel Developer
My journey at Enrollers has been full of excitement, challenges, and learning. It has completely transformed me both professionally and personally. I went through various trainings including Laravel Development Program that helped me shape my career and secure placement. I thank Enrollers for all the opportunities.
Aman Khan
Graphic Designer
I wanted to take a moment and thank you for the excellent graphic designing. It has been quite a ride and I have learned so much. I think that your course is one of the comprehensive graphic designing courses available. Thank you for sharing your knowledge and expertise.
Tamoor Fayyaz
Mobile App Developer
Thanks for putting together such a comprehensive Front end development course that is helpful to anyone, no matter their level of experience! I'm seriously blown away by how much material you're covering in this course. I'm not sure I've ever seen anything this comprehensive.
Muhammad Saleem
Backend Developer
The eCommerce website course is a dense, information heavy course that is presented in a clear and logical manner. The instructor, Adeel, does an excellent job of explaining the concepts of eCommerce websites and gives you the knowledge you need to start your own venture.
Shahsawar Khan
React Native
This web designing course was very well organized and easy to understand. The instructor, Sir Adeel, gave us the tools to create our website in any niche we like. I highly recommend this web designing course to anyone who wants to make their website, whether for personal or business use.